September 2010
---
14th Annual Intercontinental Miami Make-a-Wish Ball Raises $1.6 Million for Children Across South Florida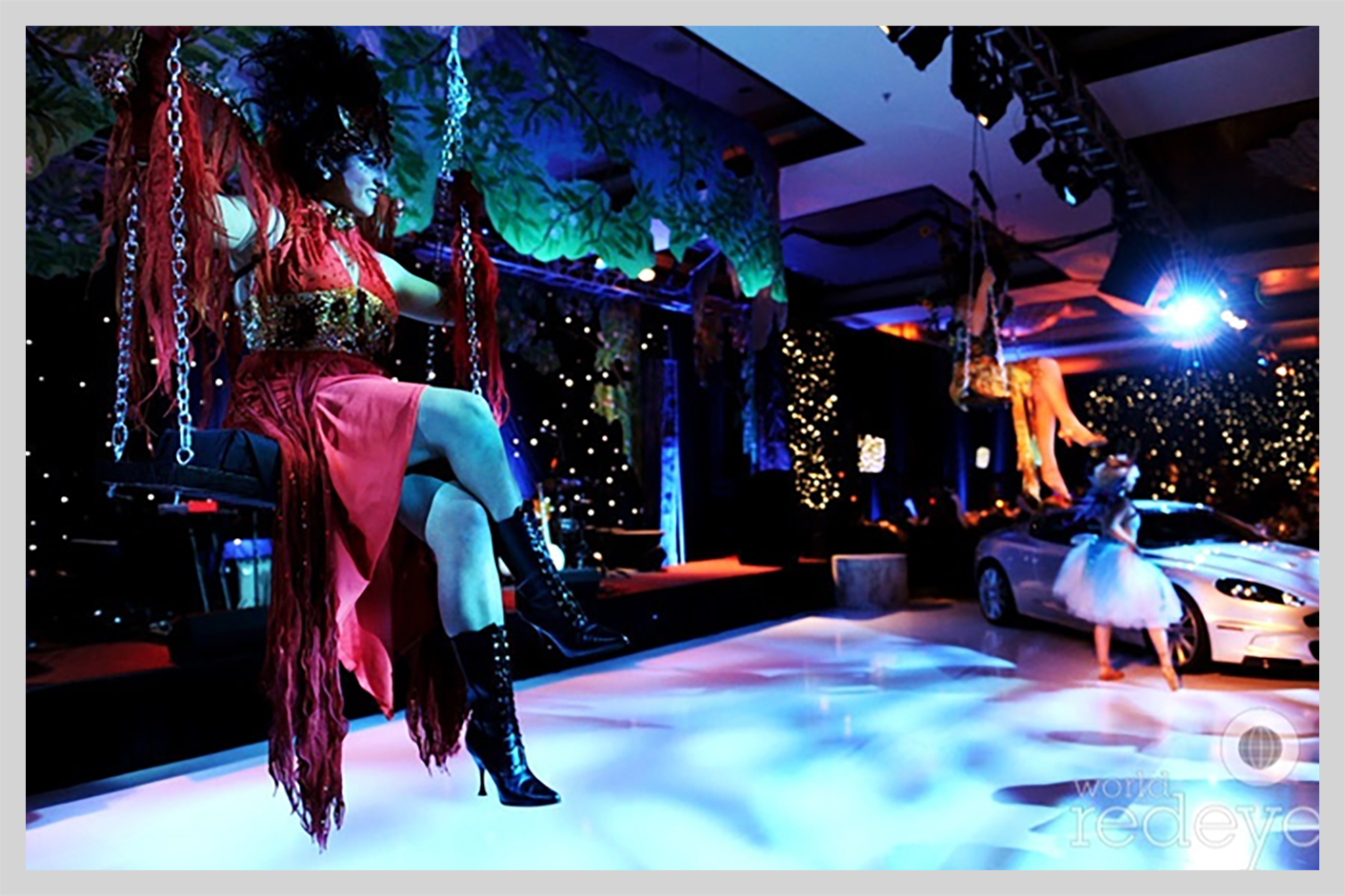 2008 – The Make-A-Wish Foundation of Southern Florida and InterContinental Miami celebrated the 14th Annual InterContinental Miami Make-A-Wish Ball raising more than $1.6 million with a mystical-themed dinner, musical performance by The Honey Brothers, extravagant live auction emceed by reality television star Kim Kardashian, and the debut of the Ball's InterContinental Miami Make-A-Wish Nightclub, the latter hosted by Miami nightlife impresarios Michael Capponi and Shareef Malnik. Watching over the bidding war was Florida Governor Charlie Crist, who also appeared as a guest honoree.
This year's Intercontinental Miami Make-A-Wish Ball was once again made possible by the committee's star players and "The Three Amigos" – president/CEO of Make-A-Wish Foundation of Southern Florida Norm Wedderburn, InterContinental Miami general manager and gala host Jack Miller, and Ball chairman Shareef Malnik, proprietor of The Forge. Also honored at this year's Ball were lifetime benefactors Al and Nancy Malnik, Wish benefactor James Ferraro, grand benefactors Stanley and Gala Cohen, founding benefactors Howard and Barbara Glicken, and corporate benefactor Robert Press of Trafalgar Capital Advisors.
The evening began with a lavish cocktail reception featuring seasonal décor by Sutka Productions, hors d'oeuvre stations created by InterContinental's executive chef Alexander Feher, spirits provided by Southern Wine & Spirits, and a silent auction that raised more than $87,000. More than 120 premier items were donated by top hospitality, entertainment, fashion and luxury brands, including Saks Fifth Avenue, Bal Harbour, Tiffany & Co., Ocean Reef Club, Royal Caribbean Cruises, Carnival Cruise Lines and Christian Dior, to name a few. In addition, more than 20 InterContinental hotels worldwide provided gift certificates valued at $80,000 for the auction. For the first time ever, the Ball offered a "Buy it Now" option, enabling guests to forego the bidding process and purchase items on the spot for a disclosed price tag.
Following the reception, guests were summoned by performers camouflaged as walking foliage, centaurs, butterflies and mythical creatures into an enchanted ballroom for an indulgent three-course meal. The dinner portion of the evening commenced with a video presentation by Norman Wedderburn, Shareef Malnik and Jack J. Miller, followed by a surprise musical performance by 16-year-old Jonathan Rios, a Wish child, who, through the help of the foundation, now has an in-home music-recording studio. Longtime Make-A-Wish supporter Jim Ferraro opened the Wish auction by buying 40 wishes at $5,000 per wish, while grand benefactor Stanley Cohen successfully challenged his friends to match his purchase of 40 wishes. The wishes auction raised an astonishing $1.3 million.
The dinner gala continued with beats by Miami Heat's own resident DJ Irie and an action-packed live auction hosted by Kim Kardashian. A-list celebrities and Miami's top VIPs and philanthropists bid on a series of items, including a 2009 Aston Martin DBS and six high-end vehicle rentals donated by The Collection; an Aspen home rental provided by Edward Freedman; a gentleman's watch provided by celebrity jeweler Jacob & Co.; a package of 10 Lasik procedures by "surgeon to the stars" Dr. Cory Lessner of Millennium Laser Eye Centers; a private party for 500 with full bar at Mansion nightclub, courtesy of The Opium Group; a wine excursion provided by Southern Wine & Spirits with accommodations courtesy of InterContinental Buenos Aires; and a walk-on role on the hit HBO show Entourage, courtesy of cast member, actor Kevin Connelly.
In true InterContinental Miami Make-A-Wish Ball tradition, the grand finale of the event featured live music entertainment by The Honey Brothers, featuring actor Adrian Grenier, performing a number of tracks that filled the dance floor. The five-member band performed the Florida premier of "Won't Last Long," a single from the band's forthcoming album that includes Grenier on vocals.
Following the Ball and for the first time in Intercontinental Miami Make-A-Wish Ball's history, the InterContinental Miami Make-A-Wish Nightclub celebrated the Ball's endeavors and reintroduced the Make-A-Wish Foundation of Southern Florida to its next generation of contributors and Miami's premier buzz creators in the fashion, arts, music and nightlife industries. Hosted by Kim Kardashian and The Honey Brothers, along with Shareef Malnik and developer and nightlife impresario Michael Capponi, among others, the InterContinental Miami's Chopin Ballroom was turned into a swank after-hours venue featuring a fashion show by designer Richie Rich with a performance by New York cult-favorite Tokyo Diiva.